I ordered a box of awesome (yes, the box says that) from ITS Tactical and it showed up filled with... well awesome. People at work are constantly losing keys to cabinets and desks and I had always wanted to try my hand at picking locks. It's a neat thing to play around with.
I opened the box and within 10 minutes had every lock in my office (door, cabinets, etc.) locked and unlocked. The simpler the lock, the easier it was, my door lock is a 2 spin to lock/unlock so it was a pain but I still got it. Part of the order was one of these: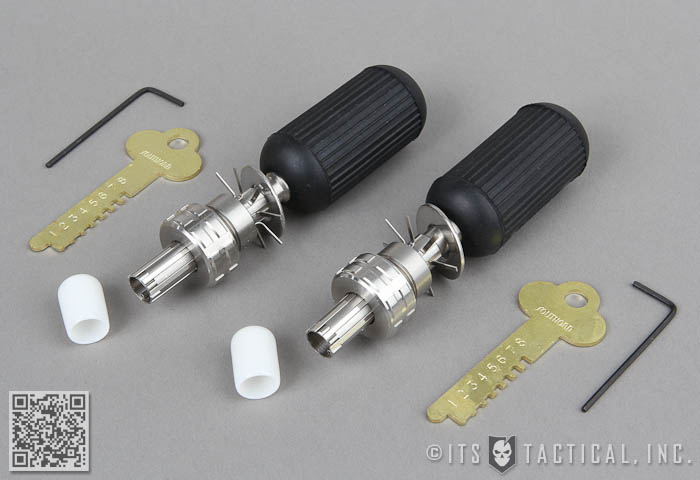 A 7 point tubular lock pick. I opened 4 out of 6 tubular locks that I tried in under 15 seconds each. The ones I didn't get open I just didn't want to spend more time on. How about the vending machine... yup, free junk food for all. In the box were some padlock shims and combination padlock shims. They won't work on my master locks but the cheap Chinese ones open like the red light district on payday.
Locks are for honest people, something my Father reminded me of often, and something my little box of awesome reinforced. I spent 5 minutes each on my front door and back door dead bolts and didn't have any success. Practice makes perfect and I had never picked a lock before, so a new skill is building.
A similar 5th wheel might be making it's home with us soon. The one we are looking at is a 33 foot toy hauler. It will fit both ATV's inside, has a full bathroom and shower, queen bed, etc. There aren't slide outs and that's a plus for us, it has an upgraded generator, brand new tiers, etc.
We have been mulling over a drivable RV since we are getting older and don't want to always be tent or pop-up camping. My friend and boss has this 5th wheel he used one time in about 8 years and offered it to us. We passed, having everything checked out, adding a 5th wheel hitch to the truck, etc. it was going to run about $7000. Sure it's cool, but it's still a lot of money. He really want's it out of his life so now it's going to be $3500.
Perfect for weekend (or longer) trips to wherever, including land that we are hoping to pick up next year. 5th wheels have some disadvantages, mainly the size and not being able to get it into all the secret secluded places. If we don't like it after a few months he said we could just sell it, I don't see why would couldn't double or triple the investment easily based on what they are selling for elsewhere.
On the home front, I used the last of the trash barrel rain water for the garden this morning. I started counting tomatoes and stopped at 100 and have over a dozen cucumbers on the vine. I'll try and stay ahead of the frost in hopes we keep getting produce. I'm probably going to make a nice stew this weekend and nothing beats off the vine tomatoes. All of the produce we have given out and consumed, the garden has given us 250+ pounds of produce and it's still going strong. That number isn't trumped up, I like to weight the stuff when I have a huge bag full and 30 pounds of tomatoes is an average haul every 4-5 days.